Biography
born and died in rio de janeiro_ brazil_ 1930 – 1990
www.iacbrasil.org.br/artista/sergio-camargo
Rio de Janeiro, Brazil, 1930
Lived and worked in Rio de Janeiro, Buenos Aires, Paris and Massa, in Italy
Died in Rio de Janeiro in 1990
Studied at Academia Altamira in Buenos Aires, in 1946, under Emilio Pettoruti and Lucio Fontana. In 1948, he moved to Europe and attended Gaston Bachelard's philosophy course at Sorbonne, Paris. During this time, he admired Brancusi's work, whose studio he frequently visited. He also became aware of Georges Vantongerloo, Hans Arp and Henri Lauren's work, which have all inspired his own work. Once back in Brazil, he made the acquaintance of the neoconcretist work of painter Milton Dacosta, in 1958.
He lived in Paris again between 1961 and 1973, where he attended Pierre Francastel's classes on Sociology of Art, at the Ecole Pratique des Hautes Études. During this time, he worked at his own studio in Malakoff (Paris) and at Soldani's studio in Massa (Italy), near the marble quarries and alongside artisans. Following an invitation from art critic Guy Brett, the artist held a solo exhibition at gallery Signals London, where he subsequently presented the work of Lygia Clark, Helio Oiticica and Mira Schendel, thus allowing these great artists to be launched in Europe. By the end of 1973, he returned permanently to Rio de Janeiro and began the construction of his art studio in the district of Jacarepaguá. From this point on, he is in contact with a group of artists (Waltercio Caldas, Iole de Freitas, Tunga, José Resende, Eduardo Sued) and art critics (Ronaldo Brito, Paulo Sergio Duarte and Paulo Venancio Filho), and finds a genuine environment for debate and reflection that lasts until the end of his life.
Outside Brazil, Sergio Camargo was acknowledged and highly respected worldwide. His art pieces can be found in national and international museums and in important private collections. Following his death, in December 1990, an itinerant exhibition of his artwork visited various foreign museums from 1994 to 1996. And to celebrate the 10th year of his passing, the Paço Imperial (Rio de Janeiro) granted Sergio Camargo a permanent exhibition space, which displays a replica of his art studio in Jacarepaguá. Raquel Arnaud represents the artist since 1975 and Sergio Camargo's Estate since 1990.
Exhibitions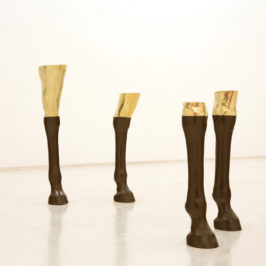 sep 25 - oct 30 _ 2021