Overview
[gallery columns="4" link="file" ids="1238,1239,1240,1241,1242,1243,1244,1245,1246,1247,1248,1249,1250,1251,1252,1253,1254,1255,1256,1257,1258,1259"]
Biography
born in caracas_ venezuela_ 1923-2019
www.cruz-diez.com
Cruz-Diez is considered one of the leading exponents of contemporary art. He began his research on color alongside the Kinetic Movement of the 60s. His reflection on art has expanded our ideas about color to the point where today we can understand that perceptions of chromatic phenomena do not necessarily have to be associated with form. Cruz-Diez has conceived his proposition by what he qualifies as spatial structures, "Chromostructure" or media for chromatic events, giving origin to what we know as "Physichromie", "Transchromie", "Induction Chromatique", "Couleur Additive", and "Chromosaturation." These are the focus of all his research and works — works in which he shows that color, when it interacts with the observer, is transformed into an autonomous event capable of invading space without the aid of form, without narrative or symbols. He has received awards in France, Argentina and Venezuela. Several museums and public collections exhibit his work, including the Archer M. Huntington Art Gallery, University of Texas (Austin); Casa de las Américas (Havana); Collection of Latin American Art, University of Essex (Colchester); Daros Latinamerican Collection (Zürich); Irish Museum of Modern Art (Dublin); Josef Albers Museum Quadrat Bottrop; Musée d'Art Moderne de la Ville de Paris; Musée d'Art Contemporain de Montréal; Musée national d'art moderne – Centre Georges Pompidou (Paris); Museo de Arte Contemporáneo (Bogotá); Museo de Arte Contemporáneo de Caracas Sofía Imber; Museo de la Solidaridad Salvador Allende (Santiago); Museum of Contemporary Art (Sydney); Museum of Fine Arts, Houston; Museum of Modern Art (New York); Museum of Modern Art (Sydney); Muzeum Sztuki (Lodz); National Taiwan Museum of Fine Arts (Taichung); Neue Pinakothek (Munich); Sonja-Henie Museum of Modern Art (Hovikodden); Tate Modern (London); and The Blanton Museum of Art (Austin). In Brazil, his work can be seen at the Museum of Modern Art, in Rio de Janeiro. Galeria Raquel Arnaud has been representing Cruz-Diez since 1983, and presented two important solo exhibitions featuring new works in the country: 
Cruz-Diez - A Cor no Espaço
 in 2007 and 
Cruz-Diez: Circunstance and Ambiguity of color
 in 2012.
Exhibitions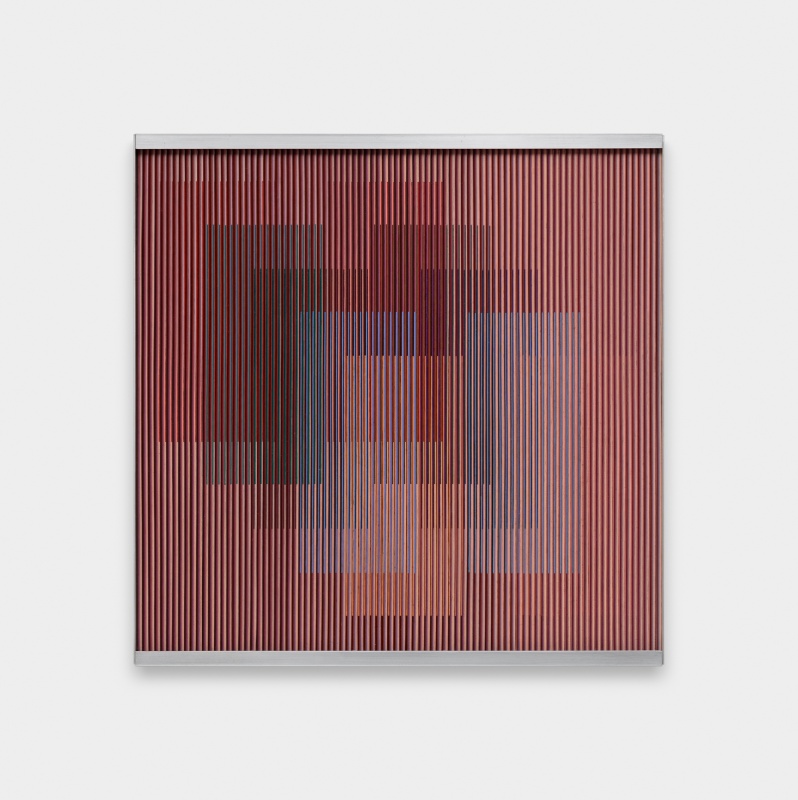 march 30 - june 8 2019
Texts