elisa bracher_incarnates
jun 20 - set 01_2018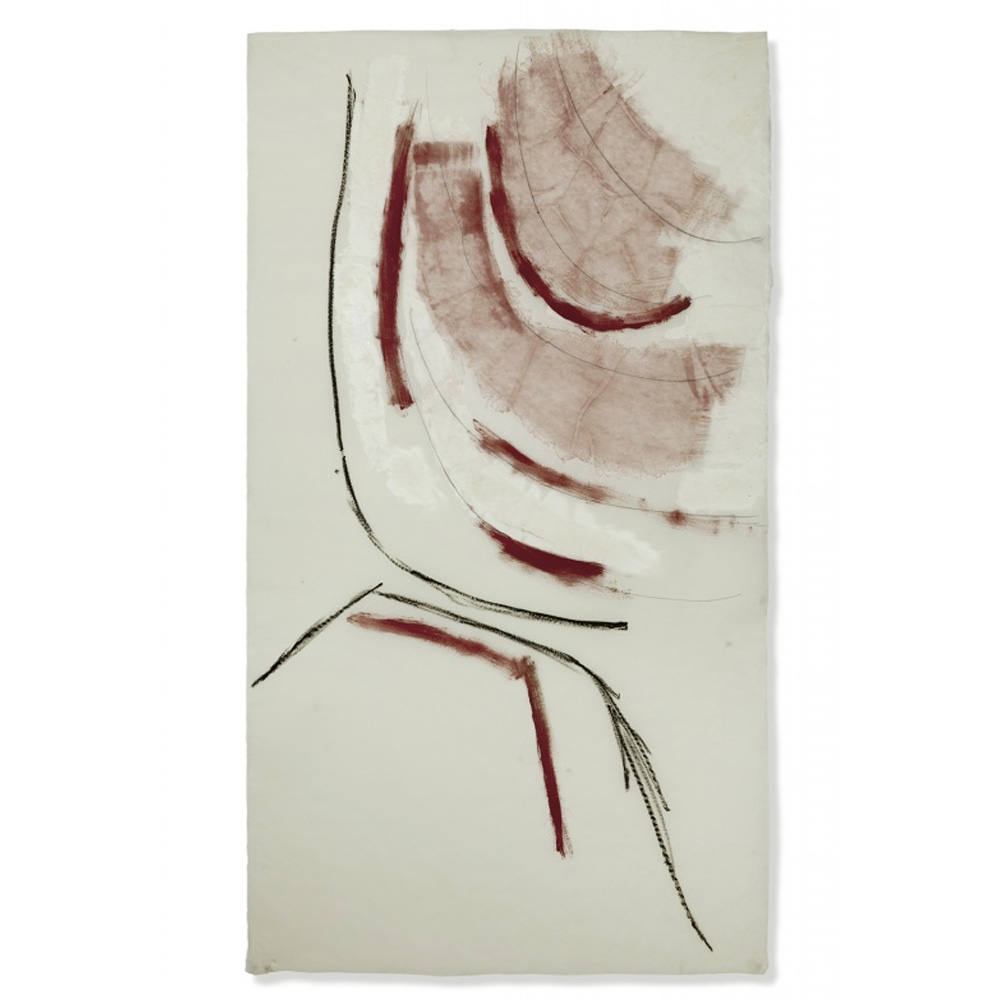 After Luctus Lutum, an exhibition held in 2015, in which she paid tribute to her late mother with a large installation made of rammed earth that weighed 30 tons, Elisa Bracher returns to Galeria Raquel Arnaud with a new cut of her production. Encarnadas brings to the public a selection of 30 drawings developed by the artist since 2008, on rice paper, with sizes ranging from A4 to large dimensions (3.00 x 2.10m). These are works, most of them unpublished, that take over his studio, walls, floor, and across the space, hanging on clotheslines, due to the drying process. The heavy inks, typical of metal engraving, together with lithographic chalk, an oil stick, and other inks are slowly absorbed by Japanese paper.
According to Elisa Byington, curator of the show, the drawings of the "Reds" series emerged in the elaboration of a sculpture project for public space, initially they were plastic volumes with well-defined contours and geometric shapes that sought stable spatial placement on the page. "But soon, the design intention gave way to a diverse formal investigation, in which a certain three-dimensionality, if any, was only given by the translucent paper that allowed a glimpse of the space beyond the surface".
Before referring only to the granite of the blocks that would build the sculpture, color, in this series, is the protagonist. "For the artist used to a strict and restricted chroma to black, white and ocher, who exercised the distance of anthropomorphic imagery, the red, red color, which imposes itself as a guiding thread, gives the work an unusual organic, fluid, sinuous dimension. , delicate, painful, visceral, erotic, and postulates in a different way the question of visuality", says Byington.
In addition to the drawings/paintings of the "Reds" series on rice paper, the exhibition brings together unpublished works in stone, wood, and glass, which connect to the forms developed in the red paintings; and wooden sculptures, revealing a production that coexists with multiple languages ​​and techniques. The exhibition is completed by a projection of photographic images reworked in mixed media, occupying the second floor of the gallery, which "repurposes the primordial universe of the "Reds" in another dimension".