guto lacaz_ antimatter
nov 10_ 2022 - feb 17_ 2023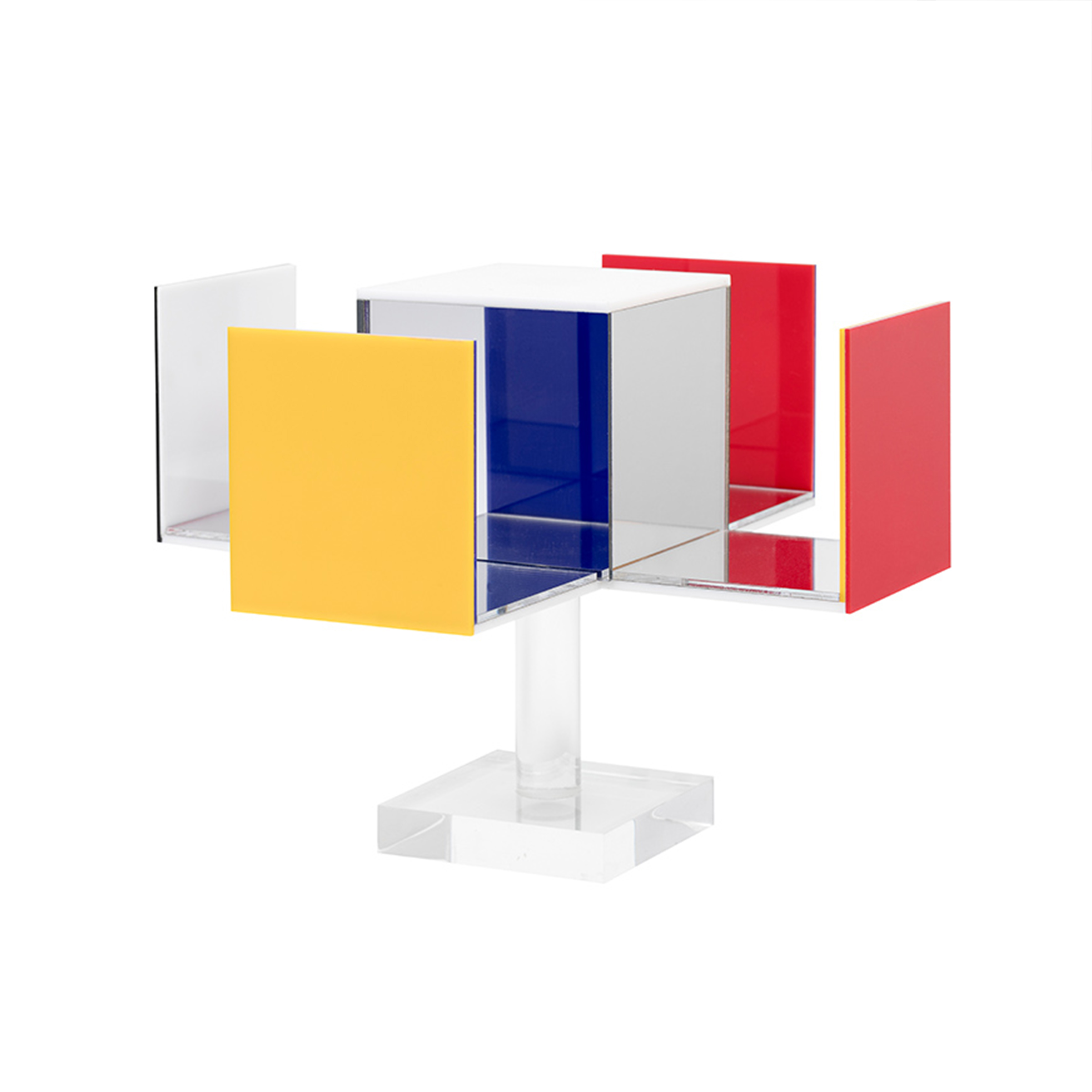 Antimatter is the opposite of matter.
The antiparticles possess the same characteristics as elementary particles, but they present opposing electric charges. For Guto Lacaz, this is the definition of a way of understanding without understanding.
With references to great constructivist artists, like Sérvulo Esmeraldo and Carlos Cruz-Diez, along with striking features of optical art, the exhibition brings original artworks together on the ground floor of the gallery. The expography designed by Guto is in harmony with with the architecture of the gallery's building, respecting the multidisciplinary rigor of the design. Arranged in an aligned manner, the pieces create an axis, causing a collective and individual effect among the works. This game characterizes a recurrent approach in Guto's universe, who researches materials in unusual situations, with a playful look and technological and provocative resources.
The exhibition Antimatter starts with a single idea: propose a radical occupation, where the artwork can estabilish a connection the architectural forms of the gallery. Thus, antimatter provokes views on what is the materialization of the void – "a bluff", comments the artist.
Graduated in industrial electronics and architecture, Guto Lacaz is an innovative presence in the contemporary art scene. His production moves from drawing to design, to sculpture, to performance, and to installations. By incorporating everyday objects into his works, Guto explores the technological possibilities of art with humor and irony, giving rise to a consistent oeuvre. His affinity with optical art and with constructivist masters (Kazimir Malevich, Piet Mondrian, etc.) is manifested in the exhibition and surprises us.
The relationship between artists and gallerists is, usually, marked by admiration, inspiration, and respect. The relationship between Guto Lacaz and Raquel Arnaud, however, has deeper roots, since they are cousins. Apart from having a great friendship, Raquel witnessed the conflicts experienced by Guto, as an artist, as well as his evolution. In their conversations, Guto mentioned he made some constructions. One day, he showed one of them to Raquel, saying: "here is the work I do." Without hesitating, she replied: "well, you make objects of art." This was one of the most powerful impacts reported by the artist with regard to his work, because the gallerist had already a meticulous and sagacious view, having already exhibited, at the time, great masters.
Reinforced by the enthusiasm of the exhibition project itself, antimatter materializes; a bluff that prompts us to question what we see and feel.
On the first floor of the gallery, it will be exhibited 7 multiples by the artist and projections of 4 videos of performances and shows. During the exhibition period, a documentary about the artist's life and work will be released (to be scheduled).
Exhibition: Antimatter
Opening: November 10, 2022, from 6:00 pm to 10:00 pm
Visiting hours: until February 17, 2023 (free entry)
Telephone 11. 3083-6322, e-mail info@raquelarnaud.com
Galeria Raquel Arnaud
Rua Fidalga, 125 – Vila Madalena – telephone: +55 11 3083-6322
exhibitions images