josé pedro croft _ an impermanent body
nov 8 - jan 26_2019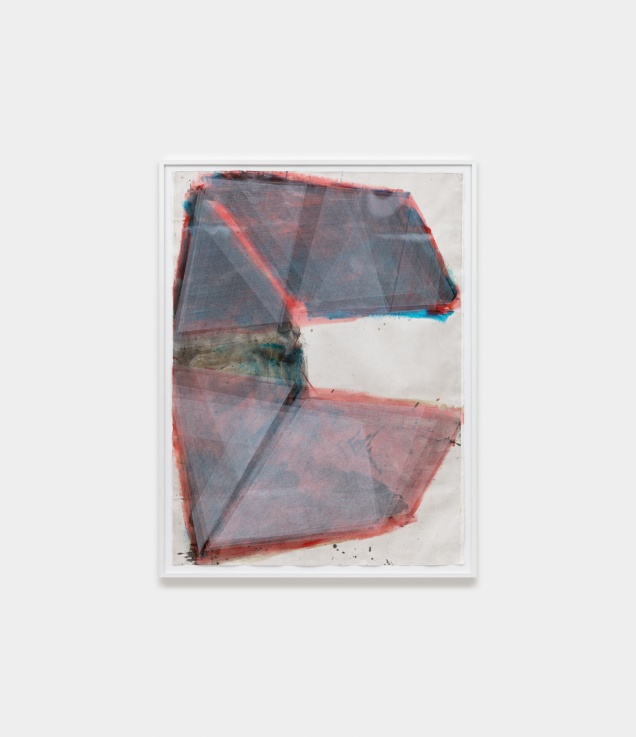 Portuguese visual artist José Pedro Croft (Porto, 1957), a key figure of European art, participates in the show at Raquel Arnaud with drawings, prints and two new sculptures designed especially for this occasion.
The exhibition Um corpo impermanente, in partnership with Rio de Janeiro gallery Mul.ti.plo Espaço Arte, actually consists of artworks which, as bodies, are measured with our own scale and use architecture as a mediation.
The space of the gallery is particularly interesting to Croft, due to the particularities it presents.
In this immersion, the "bidimensional works (prints and drawings) seek to determine a form, delineate it, which is an inglorious task since it is not yet, or is no longer" – the artist says. After all, they are bodies under construction, composed of planes and lines. Vectors that complement one another, and which are simultaneously nullified.
They arise from the same structure that is repeated and is changed, on a path that aims to be straight, to widen the spectator's possibilities from there.
There are also tridimensional works. Onesculpture that is like a column, a crossing of two transparent planes, rises obliquely and unstably from the floor, nearly touching the ceiling of the gallery. Glass elements delimit the "interior" space of this crossing in games of false symmetries, of obstruction with transparencies and reflections.
The impermanent, fragile and larger body that arises is provisorily contained by the architecture.
Another sculpture, this on in a corner, repeats a crossing, clinging to the architecture like a prosthesis. The void and the mirrors reecho and multiply the structure. Portions of space are simultaneously activated and displaced. By the height of the installation, our body is involved implicitly.
Art critic Luiz Camillo Osório, looking at the artist's recent works, sees the presence of an architectural thinking in reverse, in which gravity is confronted in the name of lightness in a curious sort of material fabulation: in which the materials used seem to contradict their original vocation and always assume a spatial perversion, involving voids and mirrorings, making us see possibilities of the material and the surrounding space, which initially appear to be closed off to them, the professor adds.
About the artist:
José Pedro Croft (Porto, 1957) lives and works in Lisbon. He studied painting at ESBAL (Escola Superior de Belas Artes de Lisboa)and sculpture with João Cutileiro. His work transits without hierarchies between sculpture, drawing and printmaking.
He has participated in various solo and group shows, since 1980. He is represented in the following collections: Centro de Artes Visuales Fundación Helga de Alvear (Spain), Centro de Arte Moderna da Fundação Calouste Gulbenkian (Portugal), Fundação EDP (Portugal), Fundação Luso-Americana (Portugal), Fundação de Serralves (Portugal), State Secretariat of Culture (Portugal), Fundació La Caixa (Spain), Caixa Geral de Depósitos (Portugal), Museo Nacional Centro de Arte Reina Sofía (Spain), Museu Berardo (Portugal), Museu de Arte Moderna do Rio de Janeiro (Brazil), Pinacoteca do Estado de São Paulo (Brazil), Caja Madrid (Spain), Banco de Espanha (Spain), Banco Central Europeu, Sammlung Albertina (Austria), Centre Georges Pompidou (France).
In Brazil, he has held solo shows at MAM-RJ (2006), Pinacoteca SP (2009), Paço Imperial RJ (2015), and Capela do Morumbi, SP (2015).
Jose Pedro Croft represented Portugal at the Venice Biennale curated by João Pinharanda.
Exhibition: Um corpo impermanente by José Pedro Croft
Opening: November 8, at 7 p.m
Visitation: from November 9, 2018, to January 26, 2019
Galeria Raquel Arnaud
Monday through Friday, from 10 a.m. to 7 p.m., Saturdays, from 12 p.m. to 4 p.m.
Rua Fidalga, 125 – Vila Madalena – Phone: +55 11 3083-6322
Press Information
Pool de Comunicação
Marcy Junqueira / Martim Pelisson
Phone: +55 11 3032-1599
marcy@pooldecomunicacao.com.br / martim@pooldecomunicacao.com.br