iole de freitas | folding curve
jun 03 - aug 08_ 2017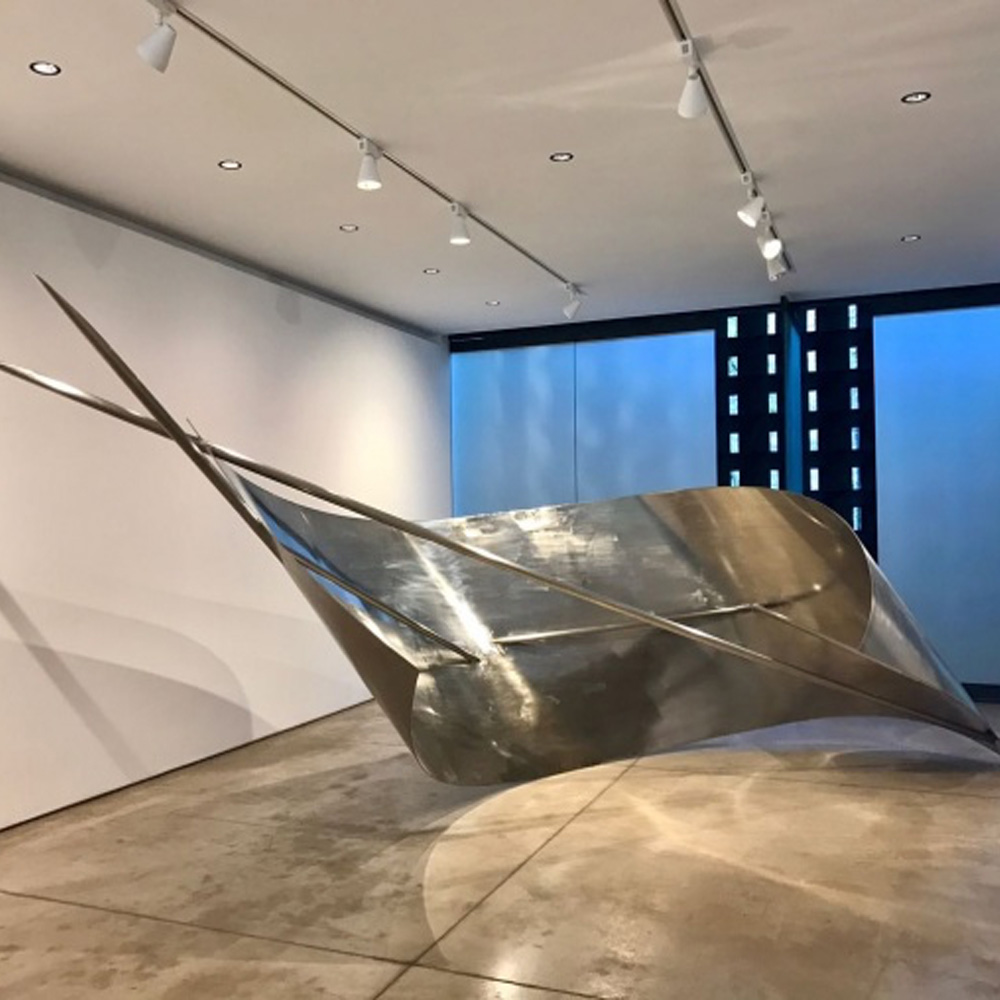 Iole de Freitas brings to his show at Galeria Raquel Arnaud three large-format sculptures and about seven smaller pieces, all made of steel. The works presented required extensive research, and calculations of support points, inclination, and resistance leading the artist to create tools to work the steel plates used in the works. Iole points out that steel, despite being resistant and industrial, allows itself to be molded, and takes on new shapes, surprising herself and the viewer with its possibilities. The exhibition text is signed by critic and art historian Elisa Byington.
The investigation into the occupation of the architectural spaces of museums and galleries, one of the key points of the artist's production, is evidenced in the show by the spatial experiments that explored the relationship between the horizontality of the gallery's volume and the positioning of the works. Pousadas on the ground suggest an intense body reality relationship between them and the spectator.
In the other works presented, sculptures in a smaller format, curved folds appear in the flat steel, as a central element of the poetic force of the works. In hand-brushed steel, the pieces reflect the diffused light in the environment. Thus, despite their density, the works provoke a sensation of lightness and movement, striking aspects of the artist's production.
Iole de Freitas (1945, Belo Horizonte (MG), lives and works in Rio de Janeiro) participated in important international exhibitions, such as the 9th Bienal de Paris, 15th Bienal de São Paulo, 5th Bienal do Mercosul and Documenta 12, in Kassel, Germany. In addition to individual and group exhibitions in several cities around the world, her works are part of important collections, including MAC – Museu de Arte Contemporânea de São Paulo; MAM – São Paulo Museum of Modern Art; Museum of Contemporary Art of Niterói; Museum of Fine Arts, RJ; Weir Museum, RJ; MAM- Museum of Modern Art of Rio de Janeiro; MAR-Rio Art Museum; Bronx Museum (USA); Winnipeg Art Gallery (Canada); and Daros Foundation (Switzerland).