harmless vice: the artist as collector
sep 25 - oct 30 _ 2021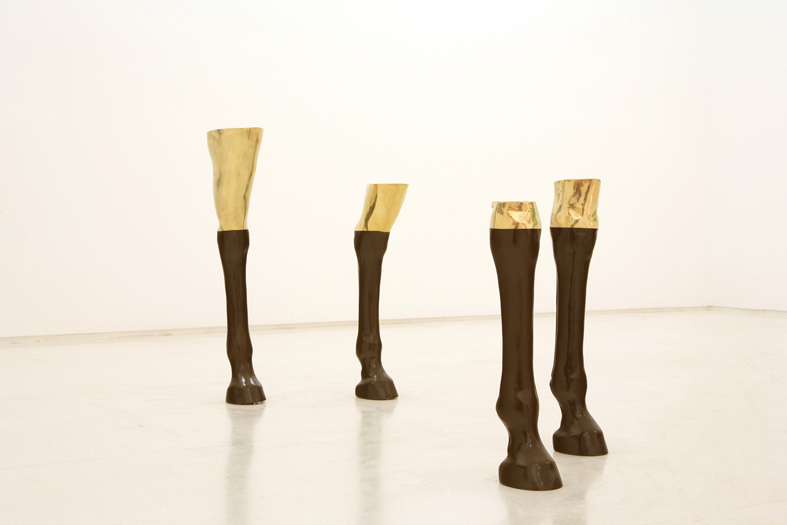 Galeria Millan and Galeria Raquel Arnaud are pleased to present the group exhibition Vício impune: o artista colecionador, curated by Gabriel Pérez-Barreiro. The exhibition will include a selection of nine represented artists, at both gallery spaces, around how their works and art collections dialogue with each other. The artist-collectors include: Artur Barrio (Porto, Portugal, 1945), Iole de Freitas (Belo Horizonte, MG, 1945), Paulo Pasta (Ariranha, SP, 1959), Sérgio Camargo (Rio de Janeiro, RJ, 1930 — 1990), Tatiana Blass (São Paulo, SP, 1979), Thiago Martins de Melo (São Luis, MA, 1981), Tunga (Palmares, PE, 1952 – Rio de Janeiro, RJ, 2016), Waltercio Caldas (Rio de Janeiro, RJ, 1946) and Willys de Castro (Uberlândia, MG, 1926 — São Paulo, SP, 1988).
The research that Pérez-Barreiro has carried out in recent years around art collecting finds a field of analysis within the context of this exhibition, where the viewer is invited to understand the nuances of different relationships between artists who collect art and their collections. With varying models, the practice of collecting is unique in each of the nine cases presented and essential for understanding each artistic production in its complexity. According to the curator, "The artists' collections can tell us not only about their own practice: What they see in the work of others that impacts them, but they are also often at the forefront of recognizing and valuing previously underestimated phenomena." For this purpose, the two galleries have come together to present this exhibition.
Sculptures and reliefs by Sérgio Camargo are exhibited at Galeria Millan alongside part of his vast collection of paintings by Hélio Melo (Vila Antinari, AC, 1926 — Goiânia, GO, 2001), a rubber tapper, artist and self-taught composer. The contrast between Melo's fantastic paintings and Camargo's constructive aesthetics brings out a new approach to this well-established Brazilian artist and reveals the permeability between movements and trends.
The title of the exhibition: Vício impune, was an expression used by Willys de Castro to describe the practice of art collecting in an article published in Arte Vogue, in May 1977. In the exhibition, two sculptures — both of them Objetos ativos – by Castro are displayed alongside a collection of indigenous art, one among many that the artist has conserved and studied. With feather art and Amazonian basketwork, the set from the 1970s and 1980s reveals another side of his fascination for geometric shapes and patterns, which unfold at different levels of perception throughout his production.
With different contexts, each collection shows singular interests and obsessions, as is the case of Waltercio Caldas and his affection for the book format, resulting in a collection of books by artists, works that discuss possibilities based on this primary education. In parallel, Artur Barrio's interest in diving was what boosted his collection of 3 mil grãos de areia, starting in 1983, in which each grain of sand represents one dive taken. This quest to register experiences is essential for the development of Barrio's artistic production; it is what gives rise to his series Situações and Registros. Each grain of sand that makes up this collection shows, however, that the idea of registering each experience goes beyond the work of art for Barrio and is present in other spheres of his life.
Sets created by artist-collectors can, in many cases, represent affective traces of their personal relationships. Tatiana Blass' collection, comprised of works by her great uncle, Rico Blass (Breslau, Alemanha, 1908 — ?), challenges us to question the extent to which these relationships are established as direct or indirect exchanges. The same occurs in view of Thiago Martins de Melo's installation work and his collection of desenhos de amigos, drawings by friends who are also artists. The sets by Martins de Melo and Blass make the affective power of the act of saving things and the subjective consequences of this act in their formal choices stand out.
Paulo Pasta's paintings are in dialogue with a collection of some of his masters: Mira Schendel (Zurich, Switzerland, 1919 – São Paulo, SP, 1988), Alfredo Volpi (Lucca, Italy, 1896 – São Paulo, SP, 1988) and Amilcar de Castro (Paraisópolis, MG,1920 – Belo Horizonte, MG, 2002), in a potent exchange between great names in Brazilian art. Similarly, it operates the relationship between Iole de Freitas and her collection of never-before-seen transfers by Tarsila do Amaral, in which the methodological paths of the latter artist's famous paintings are delineated. Process and method are established here in their traces, capable of being shared between practices of different generations.
An artist's art collection is capable of revealing traces of latent reflections that led to their practices and poetics. In this sense, Tunga's works are presented in dialogue with his collection of French Dada and Surrealist works – among them, four engravings by Marcel Duchamp (Blainville-Crevon, France, 1887 – Neuilly-sur-Seine, França, 1968). Among Tunga's works, in addition to his drawings, is also the installation Evolution (2007), made using the same language as the installation/performance Laminated Souls, on view at MoMA P.S. 1, in New York, in 2007 and 2008.
INFO
Vício impune: o artista colecionador
Curated by Gabriel Pérez-Barreiro
September 25 – October 30, 2021
Galeria Millan
Mon – Fri, 10am to 7pm; Sat, 11am to 3pm
Rua Fradique Coutinho, 1360, São Paulo, SP
Galeria Raquel Arnaud
Tues – Fri, 11am to 7pm; Sat, 11am to 5pm
Rua Fidalga, 125 – Vila Madalena – Fone: 11. 3083-6322
FOR PRESS INFORMATION CONTACT:
Lana Moraes – comunica@rquelarnaud.com
Thais Gouveia – press@galeriamillan.com.br
Phone: 11. 3032-1599