geórgia kyriakakis _ drought
feb 9 - mar 23_2019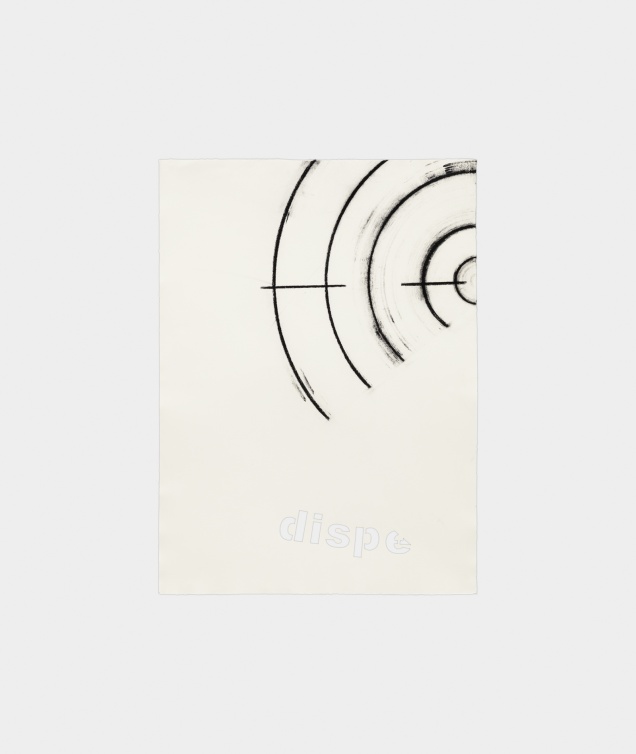 SECA [Drought], a solo show by Geórgia Kyriakakis at Galeria Raquel Arnaud, features three series of drawings and two installations. According to the artist, they are works that spring from her own life experience: "vulnerability to turbulences, the illusion of stability, powerlessness, the irreversibility of actions, impending damage – which can stain the paper, break apart an installation… or destroy a nation."
Besides referring to a severe climatic condition, related to desertification, aridity, sterility and roughness, the word drought, in its connotation of dryness, is also related here to materials used in the production of the artworks. In the installation Arquipélagos [Archipelagoes], the artist arranges stones, notebooks, books, maps and other work-related objects on a table, covering them with powdered pigment. In the new series of drawings Área de Dispersão [Dispersal Area] and Trabalho Sujo [Dirty Work] Kyriakakis uses dry pastel on cotton paper, while in the also new series Série Uma Zona [One Zone Series] she uses graphite on paper. These three elements – pigment, dry pastel and graphite – share the common characteristic of being naturally dry, dehydrated, tending to turn into powder.
The titles of the artworks – Arquipélagos, Zona de controle/segurança, Área de dispersão, etc, also reflect how geographical, social and political questions influence Kyriakakis's work, something that has been present throughout the artist's career. By appropriating such questions, Kyriakakis seeks to establish approximations and analogies with the current political and social situation in Brazil and worldwide.
The artworks are nearly colorless. Black and white prevail in the drawings on paper, as they also do on the velvety surface created with powdered pigment on tables of different shapes and sizes. Color enters as a subtle presence: it can be buried, nearly imperceptible, or activated by memory.
Geórgia Kyriakakis (Ilhéus, BA, 1961). Lives and works in São Paulo. Geórgia holds a BA in visual arts from FAAP, and an MA and PhD in arts from USP. Since 1997 she has taught at the College of Visual Arts of FAAP and at the Centro Universitário Belas Artes, where she is also active in the postgraduate course. Exhibitions in which she has participated include Espelhos e Sombras, at the Museu de Arte Moderna de São Paulo and at Centro Cultural Banco do Brasil, in Rio de Janeiro (1994 and 1995 respectively); the 23rd Bienal de São Paulo (1996); the exhibitions Beelden uit Brazilie, at Stedelijk Museum of Schiedam, and De Huit Van Witte Dame (both in Holland, 1996); the third edition of the Arte/Cidade project (São Paulo, 1997); the exhibition Caminhos do Contemporâneo, at Paço Imperial (Rio de Janeiro, 2001); and the shows São Paulo – 450 Anos – Paris, at Instituto Tomie Ohtake (São Paulo), and Heterodoxia, at Galeria Artco (Lima, Peru), both in 2004. In 2008, she participated in the show Parangolé – Fragmentos desde los 90, at Museo Pateo Herreriano, in Valladolid, Spain. That same year, the Spanish publishing house Dardo/DS released, in partnership with Galeria Raquel Arnaud, a trilingual monograph about her work. In 2014 she held the solo show Tectonicas at Galeria Raquel Arnaud, which has represented her since 2001.
Galeria Raquel Arnaud
Exhibition: Seca, by Geórgia Kyriakakis
Opening: February 9, at 12 p.m.
Period and hours: from February 11 to March 23, 2019
Monday through Friday, from 10 a.m.to 7 p.m., Saturdays, from 12 p.m. to 4 p.m.
Rua Fidalga, 125 – Vila Madalena – São Paulo – Brazil – Phone: +55 11 3083-6322
Images:
Press Relations:
Pool de Comunicação
Contacts: Marcy Junqueira and Martim Pelisson
Phone: +55 11 3032-1599
marcy@pooldecomunciacao.com.br / martim@pooldecomunicacao.com.br