condo são paulo 2019 _ contrato colectivo cromosaturado
mar 30 - aug 8_2019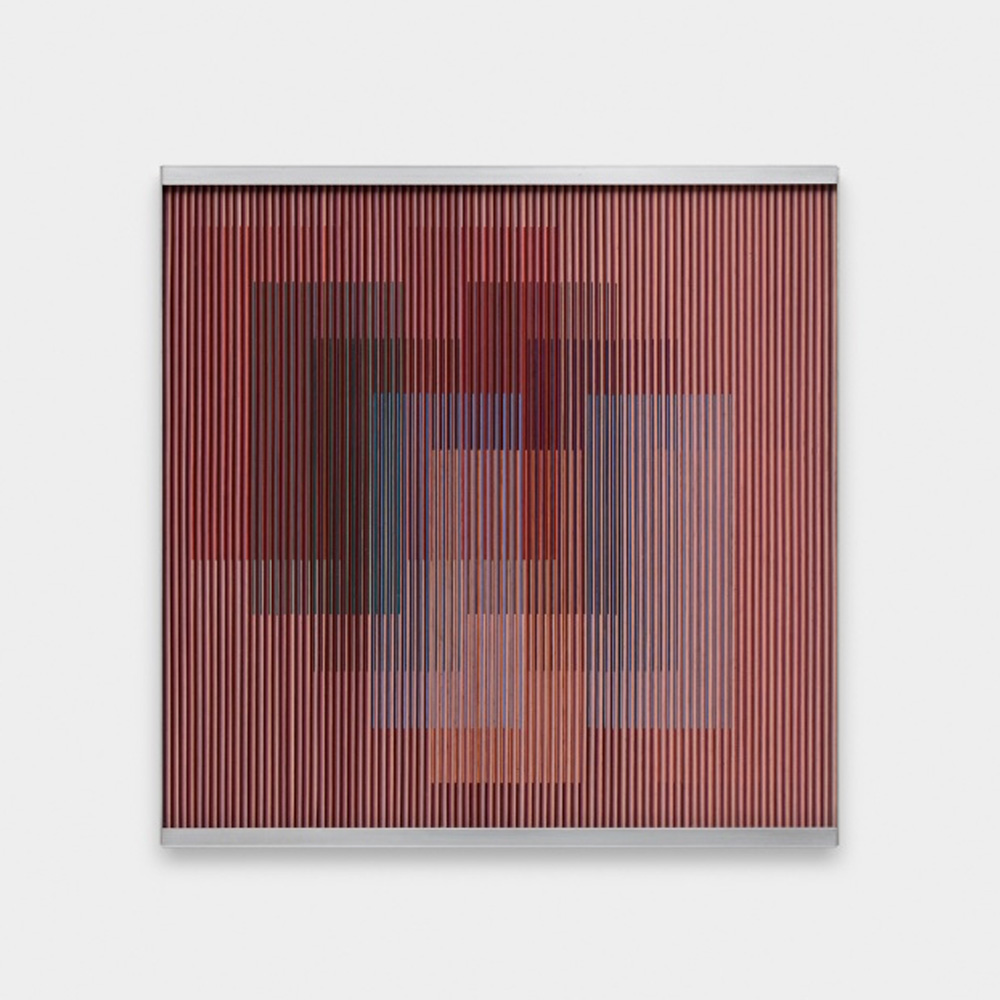 Galeria Raquel Arnaud is pleased to participate in the 2019 Condo edition as the host gallery, hosting the Parisian Galeria Mor Charpentier with the artist Alexander Apostol, in dialogue with the artist Carlos Cruz-Diez, represented by the Galeria Raquel Arnaud since 1988.
Taking kinetic art as its starting point, developed especially by Venezuelan artists in Paris in the 1960s, the exhibition Chromastone Collective Contract brings two artists into dialogue through different perspectives.
Kinetic art was highly receptive in Venezuela in the 1960s, which was experiencing a new cultural moment accompanied by strong industrialization and urbanization due to the export of oil. These artists were associated with technological advances and the Venezuelan government was a strong supporter of the movement, having even commissioned several works.
After a period characterized by the multiplication of modernist architectural projects (with Le Corbusier as the main model), the 1960s saw the transformation of many facades and interiors throughout Venezuela through the large-scale integration of kinetic art in everyday life and in public spaces. Its vivid colors and geometric shapes changed the perception of space for passers-by and workers in public areas, who in turn became performers of such works.
Carlos Cruz-Diez, born in 1923 and based in Paris since 1960, is one of the forerunners of this movement. His research revolves around the chromatic phenomenon perceived as an autonomous reality, where the spectator actively participates in the work through changes in color and shape that occur according to the spectator's movement. Two Physichromies (the artist's best-known series of work) will be exhibited at the show, one of them from 1969, as well as an installation from the Transchromie series.
Alexander Apostol, comes from another generation of Venezuelan artists. Born in 1969, he lives between Caracas and Madrid. In some series of his works, the artist researches the development and heritage of kinetic art in his country of origin. In the video Colectivo Cromosaturado, divided into six chapters, the principles of kinetic art are illustrated through different visual references. In the Political Lessons series, Apostle creates a visual narrative in which he uses the colors of different political parties that have alternated in power since 1941.
Based on the production of two renowned artists, whose works can be found in collections such as Tate Modern, London; Center Pompidou, Paris; Museum of Modern Art (MoMA), New York; Museo Nacional Centro de Arte Reina Sofia, Madrid; The Solomon R. Guggenheim Museum, New York, Daros Collection, Switzerland, among many others, the Collective Chromastone exhibition presents a narrative about the construction of kinetic art concomitantly with a strong urban development based on modernist precepts. This process finds an intersection with the history of several other Latin American countries.